Welcome to Step Up For Foot Care!
---
Step Up For Foot Care was a research and community service project for the homeless in San Francisco, CA that served to
Assess the podiatric care needs
Teach the homeless on healthy foot care practices
Deliver much needed shoes, socks, and other foot health products
Sponsored by the Albert Schweitzer Fellowship and the California School of Podiatric Medicine at Samuel Merritt University, this project helped build awareness of foot health among homeless populations and address an important public health concern.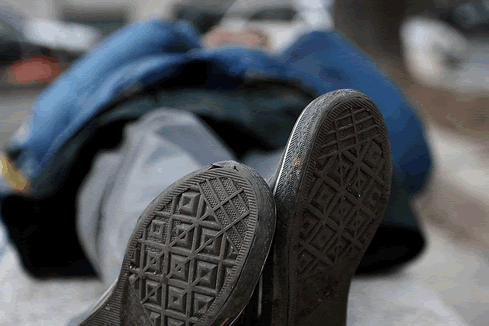 Podiatric medical care for the homeless population is a considerable public health concern. Studies have shown that homeless people are at a higher risk for lower extremity limb-threatening pathologies. Our main goal was to increase the public health awareness of healthy foot care practices in homeless populations. In order to achieve this, we educated the homeless population on preventative foot care including the importance of wearing socks, trimming nails, washing feet, and other good hygiene practices. There has been no published studies thus far on the podiatric health needs of the homeless population in San Francisco. By assessing podiatric health needs in the homeless population through face-to-face surveys, we helped build awareness of this important public health concern. Finally, we conducted foot screenings and ran drives to help provide for clean shoes, socks, and foot hygiene items to promote healthy foot care practices. This project began when we were 3rd year podiatric medical students and was completed in 2009. Analysis of data is currently in progress, and we presented preliminary results at the American Podiatric Medical Association Annual Scientific Meeting in July 2010 in Seattle, WA. A discussion on homeless foot care and public health including a presentation on this research and community service project was presented at the American Public Health Association Annual Meeting on November 9, 2010 in Denver, CO. A review publication in the Journal of the American Podiatric Medical Association was published Jan/Feb 2012.
News & Events

---
Research article accepted for publications, Journal of the American Podiatric Medical Association, Date TBD
Literature review published, Journal of the American Podiatric Medical Association, Jan/Feb 2012
Oral Presentation done November 9, 2010 at American Public Health Association Annual Meeting in Denver, CO Principal Researchers and
Albert Schweitzer Fellows
---
Bright Chen, DPM
Podiatric Physician
Houston, TX
bchen@stepupforfootcare.org

Analiza Mitchell, DPM
Podiatric Physician
Yonkers, NY amitchell@stepupforfootcare.org Mentors
---
Academic Mentor:
David Tran, DPM, MS
Assistant Professor
California School of Podiatric Medicine
Samuel Merritt University
dtran@samuelmerritt.edu

Research Advisor:
Peter Barbosa, PhD
Former Director of Research
California School of Podiatric Medicine
Samuel Merritt University